History
Orchestra London Canada has been sharing the magic of live, orchestral music for more than 60 years.
Founded in 1937 by conductor and violinist Bruce Sharpe, the London Civic Symphony Orchestra began as a community-based ensemble comprised of business people, teachers, homemakers and students. Under Sharpe, they presented many works by contemporary Canadian composers, including Barbara Pentland, Gerald Bales and Wayne Barlow.
The orchestra was reorganized in 1950. A goodwill donation of $500 from the local Kiwanis Club led to the formation of a Board of Directors and the Woman's Committee. The orchestra also hired its first professional conductor, Martin Boundy, who would remain at the podium until 1969. Under Boundy's tenure, the ensemble played concerts in regional centres, introduced children's concerts and performed its first Pops concert.
The renamed London Symphony Orchestra was incorporated in June 1957 but did not achieve fully-professional status until the mid-seventies, under the baton of Clifford Evens (1969-79).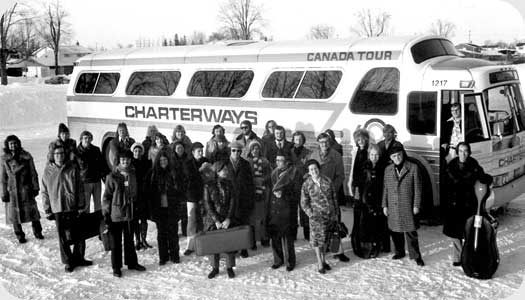 A $100,000 grant from the Richard and Jean Ivey Fund enabled the orchestra to hire 30 full-time musicians in 1975, making it eligible for Canada Council funding for the first time. Toronto Star music critic, William Littler described the LSO as "an orchestra capable of serving an entire region of the province."
Viennese-born cellist, composer and conductor, Alexis Hauser, was appointed conductor of Orchestra London Canada in 1981. His programming included large-scale works by Mahler and Bruckner, beginning our ongoing collaboration with the Kitchener-Waterloo Symphony Orchestra.
In 1982, Orchestra London represented Canada at the International Festival of Music and Architecture in L'Aquila, Italy. By the 1986-87 Season, Orchestra London offered nine subscription series, special concerts and a Beethoven Festival.
After Hauser's departure in 1988, Orchestra London was led by Uri Mayer (1988-94), Mark Laycock (1995-1998), Brian Jackson (1999-2000) and Simon Streatfeild (1999-2000). We have been honoured to share the stage with such renowned guest artists and conductor as Jon Vickers, Sir Ernest MacMillan, Glenn Gould, Jessye Norman, Maureen Forrester, Robert Goulet, Anton Kuerti, Shirley Jones, Moe Koffman, Louis Lortie, James Ehnes, Robert Silverman, Mario Bernardi, Scott St. John, Gustave Meier, Diana Krall and Jann Arden.
Maestro Timothy Vernon, a Member of the Order of Canada, joined the ensemble as Music Director in 2000.
In 2003, Orchestra London received a Lieutenant Governor's Award for the Arts for having "maintained a high level of artistic excellence while demonstrating exceptional community and private sector support."
The 2004-2005 season saw the formation of the Orchestra London Philharmonic Choir and the production of London's first, fully-staged professional opera, Tosca. Presented at the Grand Theatre and performed in collaboration with Pacific Opera Victoria, a company founded by Maestro Vernon, the five-day run played to a capacity house. Orchestra London has performed five operas since then, Verdi's Rigoletto (2006), Mozart's Don Giovanni (2007), Puccini's Madama Butterfly(2008), Mozart's The Magic Flute (2009), and Handel's Giulio Cesare (2010).

In 2010, Maestro Vernon retired as Music Director and the following year Orchestra London welcomed renowned conductor and trombonist Alain Trudel as its new Music Director.

Orchestra London currently offers six series, ranging from the classical Masterworks and Cathedral Series  to the popular styles of the Red Hot Weekends (rock) and Pops (Broadway/Big Band). The revamped Education Concerts have introduced more than 30,000 local schoolchildren to live classical music since 2000, and Community Concerts have taken the orchestra out of the concert hall and into local community centres, markets and school auditoriums.
---

Mission Statement
Our mission is to enhance the quality of life in the region through distinctive and inspirational performances of classical and a wide variety of other orchestral music. We undertake to support and foster Canadian performing and creative musical talent and to provide leadership and resources in the musical education of our communities. We are committed to delivering the highest standards in all of our programming and correspondingly to developing broad-based financial support, to ensure the sustainability of the Orchestra as a critical resource.
To aspire to fulfill this mission, we are guided by the following principles:
1. Have a visible passion for sharing the love of orchestral music.
2. Be open and transparent to the community.
3. Be customer focused to ensure the long life of orchestral performances.
4. Maintain world-class standards.
5. Be fiscally strong and responsible.
6. Be consensus driven and foster open communication.
7. Be goal-oriented
8. Make well-informed decisions with integrity.
9. Be a learning organization striving to improve.
10. Continuously develop strong leaders and musicians.