Thursday, September 8, 2021
Ushers Honoured with Ontario Volunteer Awards
LONDON - On Wedneday September 7th, at the Marconi Club, six of our dedicated core of ushers were honoured at the Volunteer Service Awards sponsored by the Government of Ontario.

Pictured below are Val Johnson, Eva Kaiser, Grace Heaman, Diana Cherwaty, Deb Matthews (MPP London North Centre), Donna and Owen Hickmott, all of whom received awards for 15+ years of service.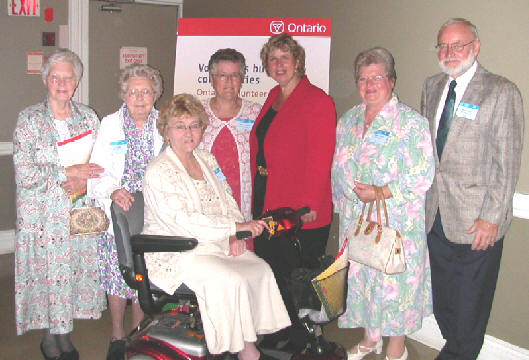 More information about the Ministry of Citizenship and Immigration, Volunteer Service Awards can be found here.
More information about Deb Matthews can be found here.


Monday, January 10, 2022
Orchestra London Benefit Concert Raises Thousands for Tsunami Relief Fund
LONDON - Orchestra London's Tsunami Relief Concert raised $14,400.00 for the Canadian Red Cross Asia Tsunami Relief Fund, executive director Rob Gloor announced today. Every dollar raised will be matched by the federal government.

More than 650 people attended the free Sunday afternoon show. Controller Russ Monteith brought greetings from the City of London and thanked the orchestra for lending its support to the relief efforts. Frank Meadows of the Forest City Kiwanis Club, which ran a free parking lot for the event, and Terry Zavitz of Terry Zavitz Insurance Inc. each presented cheques for $1,000 to a Red Cross representative who was on hand to help co-ordinate the donations.

The concert featured music by Barber, Mozart, Verdi and Bach. "It was a wonderful program that had some elements of mournful reflection, but also moments of comfort and hope," said Gloor. Several audience members told Gloor they found the performance very moving and inspiring, he added. "I'm glad we were able to make this concert happen and that so many musicians made themselves available and donated their time on such short notice."

"Music does create a sense of community, and it is community that we need at times of international crisis," said Maestro Timothy Vernon, who conducted the concert. "It's our hope as an orchestra that this sense of connectedness can extend to those people trying to recreate their lives."

"We were very proud and pleased that Londoners joined us in sending our support to the victims of the tsunami," said Vernon. "The hope that comes out of such a disaster is in the signs of incredible generosity from around the world and from communities as remote from the disaster as London, Ontario."


Monday, December 6, 2004
Orchestra London's Volunteer Committee Receives Award
LONDON - Orchestra London's Volunteer Committee has been recognized as "London's Featured Community Organization" by the City of London. Ina Pakkert-Migneron and Elizabeth Kymlikca, co-presidents of the Volunteer Committee, were on hand to accept a plaque of recognition from Mayor Anne Marie DeCicco at the December 6 council meeting.
"The volunteer committee is an indispensable part of this organization," Mayor DeCicco told council. "It gives financial and social support for the orchestra through various events, including a successful rummage sale in the spring and fall and by selling books, T-shirts, chocolates and other items at all the orchestra's concerts."
Ina Pakkert-Migneron accepted the award on behalf of the entire Volunteer Committee. "Since our inception in 1951, we have raised over $1 million in support of the orchestra," she said. "We work very hard to keep the orchestra here in our city so people don't have to leave for Toronto or Kitchener or Detroit in order to hear live music."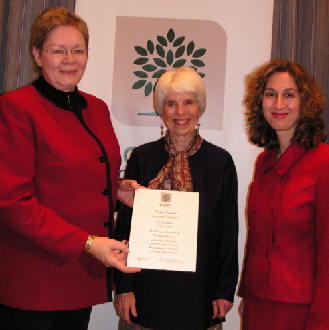 Ina Pakkert-Migneron and Elizabeth Kymlikca, co-presidents of the Volunteer Committee, accepting a plaque of recognition from Mayor Anne Marie DeCicco at the December 6 council meeting.

Wednesday, December 1, 2004
Rob Gloor's Speech to City Council
Good afternoon. My name is Rob Gloor, and I am the Executive Director of Orchestra London. I am here today with my colleague, Deb Harvey of the Grand Theatre, to voice our support for the city's demonstrated leadership in providing a stable foundation for culture in our community.
London's creative structure for ensuring a high standard of cultural activity in London is admired across the country. The Community Arts Investment Program is a one-of-a-kind funding model that responded to the need for stability in a sector that is critical to London's very identity as a city. It was developed through a broad, research-intensive and participatory process which demonstrated that municipal investment in the arts contributes to economic vibrancy, community accessibility, and quality of life for Londoners of all ages and backgrounds.
The Grand Theatre and Orchestra London are the two organizations eligible for Category One funding through the Community Arts Investment Program. The criteria for funding in this category are among the most stringent in the country, with requirements for us to:
maintain the highest standards of financial management;

establish endowment funds and operating reserves;

engage in community outreach and education;

actively pursue collaborations with other not-for-profits;

encourage volunteerism; and

demonstrate development and innovation in our programming.
The program has allowed both organizations to improve and expand their initiatives in all of these areas, reaching broader audiences, touching more children, and offering Londoners a wider variety through creative new programming and partnerships. Our work has moved us toward several of the program's goals, including bringing recognition to London from across the country. Both the Orchestra and the Grand have earned Lieutenant Governor's Awards since first having the support of the Community Arts Investment Program.
This program provides to our organizations the important benefit of responsible long-term planning, which in turn provides sustainability in our education and outreach programming and the development of innovative new projects. Just one specific outcome of this long-term planning ability is the Orchestra's presentation of our first staged opera at the Grand Theatre. This project is generating incredible excitement both inside and outside the city, and it will coincide with a national conference of Canada's orchestras, which we are hosting right here in London next June.
The uniqueness of the Community Arts Investment Program is that it can provide the stability, the leverage, and the momentum required for the arts to grow as a vital resource for our community, a critical partner in our economy, and a proud part of our identity.
We are appealing to you to re-affirm your support of the Community Arts Investment Program, its guidelines and its principles, for the continued health of London's cultural life.

Wednesday, November 10, 2004
Orchestra London Receives Trillium Foundation Grant
LONDON – Orchestra London announced yesterday that it has received a $150,000 grant from the Ontario Trillium Foundation. The money, which will be funded over three years, will go towards the orchestra's Education and Community Outreach Programs. The announcement was made in St. Paul's Cathedral at an Orchestra London dress rehearsal attended by the Honourable Deb Matthews MPP and more than 300 local school children.
"This is a very happy moment for me," Matthews said. "It brings together two of my favourite things in London. The first is Orchestra London, which is just a spectacular jewel in London, and the second is the kids of London. So to combine kids and the orchestra is perfect."
The multi-year Trillium Foundation grant will allow Orchestra London to bring its Education and Community Concerts to even more people, said the orchestra's executive director, Rob Gloor. "Now we can plan for stable growth of these programs over the next several years. We will be able to make our education and outreach programs even more effective and valuable to the community."
As one of Canada's leading charitable grant-making foundations, the Ontario Trillium Foundation works with others to make strategic investments to build healthy, caring and economically strong Ontario communities.
The Ontario Trillium Foundation, an agency of the Ministry of Culture, receives annually $100 million of government funding generated through Ontario's charity casino initiative. Ontario Trillium Foundation grants are awarded to fund capital, operating and/or specific project costs in support of: Arts & Culture, Environment, Human & Social Services, and Sports & Recreation. The Foundation makes grants that have province-wide impact as well as grants in local communities across Ontario.
This is the first time Orchestra London has received dedicated multi-year funding for its Education and Community Concerts, said Gloor, and the orchestra is now able to hire a full-time Education and Outreach Manager to oversee the programs. "This funding allows us to play for audiences that might not otherwise have the opportunity to hear the orchestra. We play in venues that are not traditional concert venues but are very convenient for people," said Gloor. "It's a very entertaining and rewarding experience to hear music played by a professional orchestra, whether it's in a school gym or on a concert hall stage."

Tuesday, October 19, 2004
Orchestra London in the Black Four Season Running
LONDON – Orchestra London finished the 2003-04 Season with a modest surplus, reported Board President John Kennedy following a board meeting Monday evening. This is the fourth consecutive year in the black for the organization, continuing a trend of financial stability.
The $38,137 surplus, on total revenues of $3,425,373, was achieved in part through continued audience growth and increased sponsorship, said Kennedy. He also credited the stable base of funding provided by the city's Community Arts Investment Program as a vital factor in the orchestra's steady progress.
The financial statements were approved by Orchestra London's Board of Directors, pending ratification of the orchestra's full membership at its Annual General Meeting, which will take place on November 8 at 5:00 p.m. in Centennial Hall.
Music Director, Timothy Vernon, was in attendance at Monday's board meeting. He expressed the importance of financial responsibility in the achievement of artistic vitality. "Orchestra London's continued stability is a springboard for our ambition on stage and in the community," said Vernon. "We aim to be a cornerstone of a sophisticated musical culture in the region."

Wednesday, June 9, 2004
Put on Your Dancing Shoes and Party with Orchestra London
LONDON - Londoners asked and Orchestra London listened. It's time to dance the night away at the first ever Red Hot Summer Dance Party at the London Convention Centre on June 25.
Vocalists Michael Shotton, Denise Pelley and Rique Franks join Orchestra London, the Jeans 'n Classics Band and conductor Jeff Christmas for an evening of some of the hottest dance music ever written. Get down with Motown classics like "You Keep Me Hangin' On," disco anthems like "Play that Funky Music White Boy" and 80s mega-hits like "Billie Jean." There'll be lots of room to moonwalk on the 1600 square foot dance floor.
"Red Hot Weekends audiences told us loud and clear that they'd love to be able to dance with the shows," says executive director, Rob Gloor. "So we're taking (this concert) to the convention centre, where they'll be table seating, and a massive dance floor."
The live show is just the beginning. Two 20-foot video screens will provide the perfect backdrop for the party to continue into the wee hours of the night.
This special end-of-the-season concert will also help kick off the orchestra's annual fundraiser, "Kitchen's on Parade," a self-directed tour of 16 designer kitchens that gets underway the same weekend. The revenue from both events will support the orchestra's overall bottom-line, says Gloor.
A Red Hot Summer Dance Party is the perfect way to wind down at the end of the week. "It's unique," says Gloor. "You just don't find a whole orchestra on stage with a (rock) band anywhere else."
Click here for more information on this event.

Friday, March 12, 2004
Orchestra London Announces 2004/5 Season
LONDON – Maestro Timothy Vernon announced today that the 2004/05 season will give Londoners the opportunity to unwind with an exciting variety of programs and guest artists. The 2004/5 season will offer everything from Bach to Broadway with great performers and magnificent masterpieces. The season will conclude with the presentation of a fully-staged opera at the Grand Theatre, a first for Orchestra London.
"The 2004/5 season is a vital step forward in developing and further defining Orchestra London as a high-calibre professional ensemble," says Vernon. "It is our hope that this appealing program will be significant in achieving our major focus, the attraction and retention of music lovers."
Opening Night - Orchestra London begins its 2004/05 season with the monumental and powerful Carmina Burana. German composer Carl Orff set to music a selection of poems and songs from this unique source, which brings together elements of Gregorian chant, village peasant dance, and student tavern singing, melding them into a percussive, almost primal work which has become one of the world's most popular classics. Featuring three of Canada's finest soloists and a choir of 200 voices, this performance will be sure to raise the roof off Centennial Hall.
Highlights of the orchestra's flagship series, Masterworks, include Tchaikovsky's Symphony No. 5, Gershwin's Piano Concerto in F with soloist Hershey Felder and Bruckner's Symphony No. 7. The series begins with Jennifer Orchard, a London native now playing with the Pittsburgh Symphony Orchestra, performing the beautiful Tchaikovsky Violin Concerto. Orchestra London's concertmaster Joseph Lanza and principal violist Kelvin Enns will be featured in Mozart's Sinfonia Concertante in E Flat. Later in the season, the great Canadian pianist Anton Kuerti joins Orchestra London as part of an all-Beethoven concert featuring 'Beethoven's Thirds': Leonore Overture No. 3, Piano Concerto No. 3 and Symphony No. 3 (Eroica). The series concludes with William Walton's electrifying Belshazzar's Feast, featuring chorus and London's own Theodore Baerg.
The Sinfonia series will bask in the glorious acoustics of St. Paul's Cathedral with six programs of Baroque and Classical repertoire. The series begins with the powerful Mozart Requiem. Also on this series, Timothy Vernon will conduct a concert featuring Bach's Brandenburg Concertos, Tafelmusik's Jeanne Lamon leads Orchestra London on a program of Austrian composers and the story of Christ's final days will be told through Bach's wondrous St. John Passion.
Orchestra London introduces the Century series, an opportunity to experience music of the last century played by Orchestra London's Sinfonia ensemble in the intimate surroundings of the Wolf Performance Hall at the London Public Library's Central branch. Copland's Appalachian Spring, Stravinsky's Octet, and Prokofiev's A Summer Day are just a few of the pieces that will be featured on this new and engaging series for chamber orchestra.
The Pops series will continue to offer timeless favourites presented by Orchestra London and talented guest artists. Frank Leahy's tribute to Don Messer, the music of Lerner and Lowe, a celebration of Sinatra and the traditional Christmas Pops will all be a part of the musical variety offered in this series. Principal Pops Conductor Brian Jackson, now in his 27th season with Orchestra London, will lead the orchestra on four of the seven programs. The series includes a January special concert with Canada's queen of the fiddle, Natalie MacMaster – a sure bet to heat things up and drive away the winter chill.
Orchestra London's Red Hot Weekends continues to be the hottest ticket in London. Next season will feature six programs featuring music by Eric Clapton, Led Zeppelin and the legends of rock and roll. Canadian pop idol, Roch Voisine, joins Orchestra London for a series opening special. Presented in a cabaret setting, the orchestra is joined by special guest performers and the Jeans 'n Classics band. The result is something unlike any other concert experience!
Orchestra London's Family Series offers the perfect opportunity to create a family day in downtown London while Orchestra London's series for young children, Pillow Concerts, continues at the London Regional Children's Museum.
Serenade Brunch, which moved to the Best Western Lamplighter Inn last year with rave reviews, continues to present fine music in the beautiful surroundings of the Crystal Ballroom. The series will feature chamber ensembles consisting of members of Orchestra London. It's the ideal way to spend a Sunday afternoon – a sumptuous brunch and an hour of wonderful music.


ORCHESTRA LONDON LAUNCHES FIRST FULLY-STAGED OPERA
For the first time in its history, Orchestra London will present a fully staged opera. The orchestra will partner with Pacific Opera Victoria, Maestro Vernon's west coast musical home, to present Puccini's riveting masterpiece, Tosca. The production will take place in London's intimate and beautiful Grand Theatre. The Grand is an unusually small venue for opera, which presents significant financial and logistical challenges, but Vernon is dedicated to meeting these challenges for the sake of developing a great future for opera in London.
"Opera is the only sector of the classical music industry with double digit growth," said Vernon. "At this point, quite frankly, London is missing out! This city will have no truly adequate venue for opera until such time as London takes its cultural life seriously and builds a performing arts centre for the enrichment of its citizens. Until that time, we are grateful to the Grand Theatre for their generous cooperation and partnership in presenting Tosca."

Tuesday, February 10, 2004
Robert Gloor's Speech to London City Council
Your worship, members of city council and administration, ladies and gentlemen:
My name is Rob Gloor. I am the executive director of Orchestra London, and I am speaking to you today to defend the critical importance of the Community Arts Investment Program.
Just a few short years ago, London's two largest performing arts organizations, Orchestra London and the Grand Theatre, were in a fight for survival. After decades of service to our communities, these two cultural institutions went about reinventing themselves to establish a new model for greater sustainability. The City of London took a leadership role in identifying and tackling the challenges of sustaining our local cultural sector, with a nod to the important role played by these two flagship organizations. A large and inclusive process folded in the participation of arts organizations of all sizes, the views of community members, consultation with other cities and models from other funding bodies.
The excellent result was the Community Arts Investment Program, a new model for funding the arts which recognizes this sector's importance in London's economic development.
The Community Arts Investment Program lays out strict criteria for funding eligibility, and it rewards an organization's ability to generate revenue growth. The program provides a predictable and sustainable funding formula so that organizations can make strategic long-term business plans and avoid the volatility of changeable year-to-year support. The Community Arts Investment Program demands top-notch financial accountability and encourages the development of broad-based community support through diverse programming, ambitious children's education programs, and strong community fundraising. City council enshrined the program in policy because it fit the city's vision for a future for all Londoners.
Thanks to the stability and long-term vision of the Community Arts Investment Program, Orchestra London and the Grand Theatre have not only recovered from their perilous situations, they have once again become leaders among Canadian performing arts organizations. Now, every year, these organizations each perform to thousands of school children, they reach marginalized audiences through community programming that tears down barriers of accessibility, they provide free tickets to dozens of charitable community organizations, they foster the development of young emerging artists, and they represent a level of excellence that has been recognized across the country.
Since the introduction of the Community Arts Investment Program, Orchestra London and the Grand Theatre have each received a Lieutenant Governor's Award for the Arts for developing outstanding community support while maintaining artistic excellence. The city's funding model has been recognized as a major factor in the ability of both organizations to reach broader audiences and develop sustainable community fundraising.
The value of a strong cultural sector goes well beyond the simple honour of receiving these awards. The arts contribute significantly to the quality of life for all Londoners – and not just those Londoners who regularly attend. Cultural activity is a critical driver of economic development, right down to assessment growth, which in turn ensures that the city can deliver on ALL its programs.
A strong cultural scene in London is important to the city's efforts to attract new residents and businesses, let alone the success of those businesses that are already here. Tourism London, LEDC, and Mainstreet London all use the arts part of their strategy to attract business. Major employers, including the University of Western Ontario, use the arts as part of their recruitment and retention strategies.
Do you want to attract more family doctors? Do you want more graduating students to call London their home? Do you want London to be a destination for the best and the brightest? Think about what they want in a city, and continue to invest in these areas.
The Community Arts Investment Program was, in many ways, ahead of its time. Since it became city policy, countless economic studies have proven that investment in culture leads to economic growth and safer cities. Culturally vibrant cities are leading the way in North America, and they didn't achieve that status without a long-term vision of what they want their cities to be, and then sticking to that vision.
I urge the council to maintain the Community Arts Investment Program, and reject any change in the policy that continues to serve this city so well.
Thanks to a diligent and careful development of the Community Arts Investment Program, London's cultural sector is just beginning to fulfill its role as a major part of our economic growth. Any change to the program would weaken this city's efforts to grow. Maintaining it will lead the city into a brighter future.

Monday, February 2, 2004
Orchestra Plays Christmas Music in February
Special Article by Nicole Laidler, Masters of Journalism Student
Londoners may not know his name, but they have probably heard his music. Jeff Christmas has been working as a composer, arranger and performer in and around London for more than a decade.
Mr. Christmas' music for the opening ceremonies of the Canada Summer Games premiered live on national television in August, 2001.
An album, commissioned and inspired by members of London's Wellspring Cancer Support Centre, was released in May, 2003.
His arrangements for brass bands are sold and performed all over the world.
He is a drummer with one of the area's most popular jazz groups, JJD Trio.
And for the last two years, Mr. Christmas, 36, has been Orchestra London's composer-in-residence.
His official tenure with the orchestra will culminate with the world premiere of Concerto for English Horn, which will be performed next week as part of a Masterworks concert. (Despite its name, the English horn is a woodwind instrument, not a member of the brass family.)
Mr. Christmas calls the concerto his most ambitious work to date.
"This is the first time I've approached a larger work for a full orchestra," he says. "I had to do a lot of research before actually writing it."
Much of that research – listening to dozens of recordings of 20th century concertos – was done at home in Byron, where Mr. Christmas lives with his wife and two young sons, Jayden, 3, and Cameron, 8 months. He has an office and studio in his basement.
"I'm composing music from Byron, Ontario," he says with a smile. "With today's technology, you can. Until I need to move, I'll stay here. I want my boys to grow up in a suburban atmosphere."
Becoming a classical composer may not top every child's career list, but Mr. Christmas was practically born into the music profession. His grandfather, Arthur James Christmas, was England's leading jazz saxophone player in the 1930s and 40s. His father, Arthur John Christmas, is a trumpeter, music educator and founder of the acclaimed amateur musical theatre troupe, the Art Christmas Aggregation in Sarnia.
"My dad is a great teacher and motivator," Mr. Christmas says of his father. "His theatre group was one of my early vehicles. When I was really young I used to write and arrange music for the orchestra pit."
At 15, he entered and won a province-wide composition contest, although he describes his entry as a mere pop song.
"I just did it because it was there. It was another musical task that somebody threw at me. There was no real desire to be a composer. I was leaning towards becoming an arranger."
Formal training began at York University and at the University of Western Ontario.
"It was like two paddles on your chest – a real wake up call," he says. By his own admission, it took him a while to find his academic musical-feet.
Beginning in the performance program, Mr. Christmas switched to theory and composition before graduating from Western with a bachelor's degree in music education in 1991. His fellow students learned to play bassoon and flute in order to teach. Mr. Christmas studied the instruments in order to write for them. His training continued at the Berklee College of Music in Boston, where he majored in film scoring and composition.
Orchestra London has taken full advantage of Mr. Christmas' musical versatility during his stint as composer-in-residence, which began in February, 2002. He arranges music for Pops concerts, plays drums with the Jeans n' Classics Band, conducts community concerts and has played a key role in the redesign of the orchestra's education series.
"I composed pieces specifically for (the education concerts) and helped to get the series happening as a show," he says. "That's my dad's influence, I guess."
His Ode to Joy is an educational style demonstration with a twist. Instead of merely presenting different orchestral instruments, it also demonstrates different musical genres – from renaissance to rock and roll.
Mr. Christmas believes his strong background in orchestration and arrangement has been invaluable to his work as a composer.
"If you have those skills when you compose it's half the battle. Once you get an idea, even if it's a line of music, you have to figure out what to do with it."
Unlike many 20th-century composers, Mr. Christmas does not believe in alienating his audience. If people are going to listen to his music, he wants them to enjoy the experience. But consideration for listeners does not limit his desire for musical expression and experimentation.
The first movement of the Concerto for English Horn is the most atonal music he says has ever written, but he insists most people will not find it jarring. In writing the concerto, Mr. Christmas says he deliberately set out to stretch himself as a composer, without going too far.
"The slow second movement is the most tonal. It's very romantic sounding. And the last movement is playful and uplifting."
He is looking forward to finally hearing the piece performed in front of a live audience.
What will Mr. Christmas do when his official position as Orchestra London's composer-in-residence has come to an end?
"There's no way my association with Orchestra London will stop," he says. "If I go back to being a freelance composer and (the orchestra) comes knocking at my door and I need the work – obviously I'll do it."
For more information about this concert, click here.

Friday, January 16, 2022
Concerto for English Horn, by Composer-in-Residence Jeff Christmas to be Premiered
(LONDON) - The upcoming world premiere of Concerto for English Horn on February 4 & 5, 2004 will mark the high point of Jeff Christmas' two-year position as Composer-in-Residence with Orchestra London.
"This concerto is the cap," says Christmas, 36, who is looking forward to having the piece presented in front of a live audience. "I still get a huge charge out of hearing my work performed," he says. The concerto will be played by Jennifer Short, Orchestra London's Assistant Principal Oboist and English Horn Player. Tania Miller, one of Canada's most talented young conductors will lead the orchestra.
Christmas' residency with Orchestra London began in February 2002. "Bringing a composer-in-residence on board gave the orchestra the opportunity to journey through several different genres of composition," says Robert Gloor, Orchestra London's executive director. "Our approach was to experience as many aspects of Jeff's compositional talents as possible." During his tenure, Christmas has been involved with almost every concert series on the orchestra's busy schedule - from Pops and Red Hot Weekends to Sinfonia and Masterworks.
"The past two years have been a natural progression from smaller works in smaller settings to this grand piece in a grander setting for full orchestra and soloist," says Gloor. The English Horn Concerto is the most formal piece of music Christmas has written to date. He listened to dozens of 20th-century concertos before he began composing. "I wanted to push the envelope as much as I could without going too far," says Christmas. "I'm a strong believer, that no matter what I want to do as a composer, I have an obligation to the audience."
Christmas' musical career began at an early age, arranging music for his father's amateur musical theatre troupe, the Art Christmas Aggregation in Sarnia. At 15, he won a province-wide contest in composition. "I wrote a pop song, really," he says with characteristic modesty. "I think the reason it opened up some adjudicator's eyes is that I orchestrated it."
After studying music for one year at York University, Christmas transferred to the University of Western Ontario. He wanted to become a composer, but decided to pursue a practical degree - just in case. He graduated with a Bachelor's in Music Education. "All my friends were taking bassoon and cello lessons to learn how to play," he says. "I was taking lessons to learn how to write for the instruments."
While at Western, Christmas began arranging and composing music for local ensemble, Brassroots. "I started out writing arrangements for Brassroots, and that was a great opportunity," says Christmas, whose brass band arrangements are now marketed and performed world-wide. "But I want to be known as a composer, and I think that's beginning to happen."
Christmas recently moved to a home in Byron with his wife and two small children. He has no plans to move - with today's technology, composers can work from any location, he says. "London is a nice size town. You can make a name for yourself here," says Christmas. "And (Londoners) really enjoy going out to hear music."
Concerto for English Horn, by Jeff Christmas, will be premiered at Centennial Hall on February 4 & 5 as part of Orchestra London's "Romantic Encounters".
Orchestra London's Masterworks Series is sponsored by Forest City Graphics Limited. This performance is also sponsored in part by the Hilton London, Q97.5 EZ Rock and the Laidlaw Foundation.
For more information about this exciting concert, click here.

Friday, November 28, 2021
Orchestra London Named Recipient of 2003 Lieutenant Governor Awards for the Arts
LONDON – Orchestra London is pleased to announce that it has been named a recipient of a 2003 Lieutenant Governor's Award for the Arts (The Jackman-Bickell Awards). In a special ceremony held today at the Art Gallery of Ontario in Toronto, Orchestra London joined 16 other organizations to receive special recognition from the Ontario Arts Council Foundation and Lieutenant Governor, The Honourable James K. Bartleman.
Created in 1995 by Lieutenant Governor Henry N.R. Jackman, the awards recognize Ontario-based arts organizations that have maintained a high level of artistic excellence while demonstrating exceptional community and private sector support.
Executive Director Robert Gloor cites Orchestra London's steady growth and support as leading factors in being chosen for this year's awards. "Over the past few years, Orchestra London has become one of the leading regional orchestras in Canada. Our audiences have been growing steadily, and our concerts have been generating amazing excitement in the community. Increasing support for our work has allowed us to expand our programming, including new and innovative school concerts and family shows. Today, we are reaching a larger audience than ever before, with a variety of music as great as any orchestra in the country."
Orchestra London is joined by 3 other orchestras in this year's awards. The Tafelmusik Baroque Orchestra and Chamber Choir of Toronto is the recipient of the top prize of $50,000. This year represents the first year an orchestra has been recognized with the top award. In addition to Orchestra London's award of $25,000, both the Kitchener-Waterloo and Windsor symphonies are recipients of $10,000. This year's awards reflect the success and momentum of Orchestras in Ontario, in contrast to the difficulties still being experienced by many other Orchestras across Canada.
Timothy Vernon, Orchestra London's Music Director, believes that the orchestra will continue to see further growth over the coming years. "The award is of course inestimably encouraging. As recognition of attainments to date it is the best possible reinforcement, and as a spur to continued striving, to renewed dedication, it provides, were any needed, the greatest incentive. We are proud - we are grateful."
For more information about the awards, visit the Ontario Arts Council website.

Wednesday, October 8, 2021
Orchestra London Launches Season on a High Note
LONDON – Orchestra London's 2003/4 season launched with an astonishing beginning on Saturday, October 4 at Centennial Hall. A near-capacity audience was treated to the most-loved works of Ludwig van Beethoven played by Orchestra London under the direction of Music Director Timothy Vernon.
From the moment the first people started to arrive, the air was filled with excitement thanks to the Pipes and Drums of the London Police led by Major Archie Cairns. Red carpet, exotic plants, candles and lavish floral arrangements greeted the eye as attendees mingled throughout the lobby of Centennial Hall. The strains of O Canada with over 1,200 people singing strong, indicated the dazzling evening that was to come.
Maestro Vernon led Orchestra London in a thrilling Egmont Overture, an ideal start to the evening's program. Then the magic really began. Canadian violinist James Ehnes, whose appearance was sponsored by the Gerald C. Baines Charitable Foundation, showed the audience exactly why he is in such high demand world-wide. A truly stunning and engaging performance of Beethoven's Violin Concerto in D Minor, earned 4 curtain calls for the tall, young violinist. So great was the ovation that Maestro Vernon invited Ehnes to play once again. This time, he chose to play the challenging, yet technically perfect, Preludio from Bach's Partita #3 in E Major. Following the intermission, Orchestra London returned for the well-known Symphony No. 5. The energy of both Maestro Vernon and the players created an excitement in the hall that lasted throughout the entire symphony. Again, the audience burst forth with generous applause and cries of Bravo as the evening drew to a thrilling climax.
Following the concert, Laszlo Buzas and the London Club were host to a sparkling Members reception which continued late into the evening. Harvey Schilke, President and CEO of Protek Systems, and sponsor for the Post-Concert reception was in attendance. Kirk Baines, his wife Joanne, and his mother Mrs. Gerald Baines, enjoyed meeting Mr. Ehnes. Peter Watson, Senior Consultant for Response Generators, and his wife Karen, were in attendance with their team. Response Generators is responsible for Orchestra London's 'astonishing' look this season. Newly elected MPP for London North-Centre, Deb Matthews, straight off the campaign trail, was also present to show her continued support for Orchestra London. Also in attendance were long time donors Joe & Pamela Samuels, Stephen & Linda Adams and Doug & Betsy Hamilton.
The All-Beethoven Opening Night was an evening to remember. With such an abundance of astonishing programs and artists continuing throughout the season, Orchestra London is poised to set a new standard of artistic excellence and entertainment value.



Wednesday, October 8, 2021
Orchestra London Declares Education Weeks
LONDON – Building on the success of its recent Opening Night, Orchestra London announced today that it will be offering 2 dedicated weeks of Education Concerts.
The first Education Week will take place January 20 - 24 and will include both English and French performances. Performances will occur at the Thames Valley Board of Education Centre. Featuring the music of great composers, including Mendelssohn, Rossini and Beethoven, the concerts will continue the tradition of storytelling through music with a mini-presentation of Shakespeare's A Midsummer Night's Dream. Book early to receive your comprehensive Teacher's Guide designed to meet the Ministry of Education expectations for all grades.
The second Education Week will be held April 13 – 17 at various locations throughout the city. In addition, schools that can provide an audience of 500 or more, may book their own on-site performance. Schools have already started to book their dates, so call now to reserve your date.
Education Concerts are a great deal at only $5 per student. There is no cost for teachers or chaperones.
Orchestra London is also pleased to offer a special Holiday program, December 16 – 17, at the Thames Valley Board of Education Centre. London's own Queen of Soul, Denise Pelley, will join conductor and Composer-in-Residence Jeff Christmas for an hour of Holiday classics. While no teacher guide is available for this program, students will find this concert both educational and entertaining. Tickets for this performance are also $5 for students, with teachers and chaperones attending for free.
Orchestra London realizes the importance of Music Education in schools. We have been dedicated to improving the quality of Music Education since the creation of the Education Concert series in 2000. Last season's Education Concerts received critical acclaim province-wide and were the focus of a documentary by TVO, Ontario's public television station.
For more information about this year's Education Concert series, see the attached information sheet. If you would like to book your class, please call Jean Culbert at the Orchestra London Office at 679-8558.



Tuesday, June 24, 2021
Performing Arts Centre Board Commissions Study
LONDON - London Performing Arts Centre (LPAC), the organization dedicated to acquiring a top quality performance hall for London, last week engaged Arts Resources International (ARI) to perform the first phase of a major feasibility study.
ARI is a division of Artec Consultants Inc. of New York, one of the most respected firms in the world in the area of theatre planning and acoustics, and a leader in feasibility studies. Many Canadian halls have benefited from Artec's excellent work, including Kitchener's Centre in the Square, the Living Arts Centre in Mississauga, the Toronto Centre for the Arts, Edmonton's Winspear Centre, and the Chan Centre in Vancouver. Artec recently completed the acclaimed acoustic enhancements to Toronto's Roy Thomson Hall.
The experience of Artec and ARI in countless cities around the world will provide unique credibility in assessing our community's need for a professional performance space. The London study will review existing local research studies, test the capabilities of current facilities, assess all aspects of local performance activity and projected future activity, and perform a gap analysis indicating where current facilities fail to meet the needs of the community. Finally, the study will take a look at potential locations and create preliminary design sketches.
Following their research, the consultant team will make recommendations on whether to build or not to build new performance facilities in London. If new facilities are indeed required, the theatre planning and acoustics specialists will then determine and recommend the most appropriate type of facilities, their configuration and size, and their relationship to existing facilities. LPAC will then have the option to proceed with Phase Two of the study, which would provide details of the acoustical, technical and architectural requirements, and the projected costs of both construction and operation of such a facility.
The feasibility study is a critical step in making the case for a performing arts centre in London. LPAC was formed in 1983 under the name Performing Arts Centre Today. After two name changes and several attempts to get the project to the top of the municipal agenda, LPAC has realized that the environment for a new hall is now better than ever before. Public response to the new Central Library, Covent Garden Market, and the John Labatt Centre has shown that Londoners value investment in a revitalized downtown. The John Labatt Centre has demonstrated London's potential as a regional centre for entertainment events, but this facility, which is primarily a hockey arena, does not address the need for a mid-sized performing arts space that is physically inviting and acoustically excellent.
In recent years, London has evolved into an ambitious and diverse community with incredibly varied musical activity, from Orchestra London's expanded educational concerts to the ever-increasing world music programs of Sunfest. London has dozens of high quality community organizations and experienced impresarios who need better facilities in which to present performances of all kinds: choral music, world music, folk, dance, musical theatre, orchestral and chamber music, celtic, big band, and jazz, just to name a few.
ARI's feasibility study will reflect the twenty-first century realities of London's arts and entertainment scene and launch the plan to build a performing arts centre worthy of the great Canadian city that London has become. Phase One is due to be completed by the end of September, 2003


Wednesday, May 7, 2021
Orchestra London announces 2003/4 season
Maestro Timothy Vernon announced today that the 2003/4 season of Orchestra London will be an "astonishing" experience of variety, entertainment and artistry. The season launch came on the heels of the announcement that Vernon will be returning as Orchestra London's music director for another four years.
"Astonishing" is certainly the key word for the line-up of blockbuster repertoire and stellar guest artists that will be presented in Orchestra London's upcoming season. A total of eight different series offer a range of styles from jazz to the classics, from Bach to Broadway.
Highlights of the orchestra's flagship series, Masterworks, include Holst's The Planets, Mahler's Third Symphony, and Rachmaninoff's famous Rhapsody on a Theme of Paganini and great artists such as harpist Judy Loman and pianist Jon Kimura Parker. Orchestra London concertmaster Joseph Lanza will be featured on the first program playing Chausson's Poeme. Later in the season, the orchestra's English horn player, Jennifer Short, will premiere a concerto by composer-in-residence Jeff Christmas. The series ends with the powerful and profound sounds of Shostakovich and his Fifth Symphony.
The Sinfonia series expands from five concerts to six next year, with concerts taking place in two different venues. Three baroque concerts will be presented in the heavenly acoustic of St. Paul's Cathedral, with special guests from Canada's world-famous Tafelmusik Baroque Orchestra. Three other chamber orchestra concerts will be held in the intimate setting of the Wolf Performance Hall in the city's new central library.
The heavily subscribed Pops series will open with a performance by Canada's musical theatre star, Michael Burgess. A European Tour, the traditional Christmas Pops, Celtic music, and the big band style will all be part of the trademark musical variety in next season's Pops. Star trumpeter Gary Guthman will get the whole orchestra swinging, and principal second violinist Sigmar Martin will lead a musical journey from jazz to gypsy. Several Orchestra London musicians will be highlighted as soloists in the final concert entitled Spotlight on the Orchestra.
Orchestra London's Red Hot Weekends will rock the house for another season at Centennial Hall. These six programs offer everything from Abba to Queen, and everything in between. Presented in a cabaret setting, the orchestra is joined by hot special guests and the Jeans 'n' Classics band and the result is something unlike any other concert experience anywhere!
The remaining series, Family Concerts, Pillow Concerts, Serenade Brunch, and Take Note, each offer a special way to enjoy music. Serenade Brunch concerts feature light classics with a sumptuous Sunday repast. Family Concerts and Pillow concerts are specially designed for the young and young at heart. And Take Note provides an opportunity to explore the story behind the music through Maestro Vernon lively insights.
Five more concerts are such unique occasions that they exist outside the regular concert series as Special Concerts. These include an All-Beethoven Opening Night program with the superstar Canadian violinist James Ehnes. The epic choral work, War Requiem, will be presented through a partnership with the Britten anniversary festival entitled Benjamin Britten: A Celebration. Orchestra London's annual opera-in-concert will be Verdi's Il Trovatore, one of the world's most famous and beloved operas. Brian Jackson will bring back the popular Choir and Organ Spectacular at Metropolitan United Church. And in May, a Red Hot Season Finale will feature Jeans 'n' Classics and an all-star cast of Red Hot Weekends favourites.
With such an abundance of astonishing programs and artists, Orchestra London's 2003/4 season sets a new standard of artistic excellence and entertainment value.
For more information or to request a brochure, call the Orchestra London Box Office at 519.679.8778.
Click here to return to the 2003/4 Concert Listings.


Wednesday, May 7, 2021
Orchestra Renews Music Director Timothy Vernon
LONDON - Orchestra London announced today that Maestro Timothy Vernon, the orchestra's music director for the past three seasons, will return to conduct the ensemble for another four years.
Maestro Vernon's contract renewal adds to several other long-term contracts put in place by the orchestra over the past year: last June, the orchestra engaged a new executive director under a four-year employment contract; in November, the orchestra's musicians ratified a four-year master agreement; and in January, the stage crew agreed to a five-year contract extending into 2007.
Orchestra London's board president, John Kennedy, said today that Orchestra London has entered a period of unprecedented stability. The organization is debt-free, audiences have been growing steadily, and with all our major contracts now in place for the foreseeable future, we can plan more effectively for the long-term.
Musically speaking, a four-year term for the music director will allow for a long-term artistic vision that facilitates continuous growth and development, benefiting both musicians and audiences. Main series concerts and community programs alike will reflect the renewed energies and aspirations of Orchestra London.
Vernon joined Orchestra London three years ago in its darkest hour. The organization was in financial peril and had to make many artistic sacrifices for the sake of pure survival. According to Kennedy, Vernon's commitment to the orchestra through its most difficult time was a source of strength that encouraged the rebuilding of the organization at all levels.
Now, Orchestra London is poised to enter a new and exciting era, led by Maestro Vernon's visionary enthusiasm. The 2003/4 season will include bold programs, acclaimed guest artists, and some new directions for the orchestra, including a new family series, a focus on baroque music, and several collaborations on major works with other orchestras and ensembles. With Timothy Vernon as music director, Orchestra London will continue to thrill its audiences year after year.
.

Home | Concerts & Tickets | Special Events | Music Makers | About Us
Membership & Support | In the News


Copyright Orchestra London Canada 2004, 2005 All Rights Reserved